Streamline your recruitment process to bring the best talent on board.
Human resources is one of the key assets of any enterprise. Use the recruitment master set-up to customize the recruitment module as per the requirement of your organization. An advanced human resource management system, Digital HRMS supports an end-to-end recruitment process. The Master Setup allows users to define the different parameters of the recruitment module. Users can add, edit and delete the parameters like location, reason for hire, billing type, experience level, candidate sources, rating scale, interview level, reason for cancellation and more.
The Digital HRMS has a complete Recruitment module which comprises of the separate stages of recruitment, starting from creating the requirement, sourcing of candidates, scheduling interviews, initiate hiring, and releasing the offer. Status of each candidate at every stage can be seen on separate dashboards.
For example:
RRS DASHBOARD
The RRS dashboard presents the current open positions within the organization. It also gives complete information about the requirement. Example: positions, required skillsets, business unit, required from, etc.
The candidate dashboard of Digital HRMS allows you to view the candidate status and status graph, along with a Grid View which will display all the information about the candidates. Users can also search using the RRS Title, Candidate Status or also by the Candidate Name.
Digital HRMS also offers the existing employees of the organization the opportunity to refer candidates for any open position within the organization through the system via the Candidate Referral page.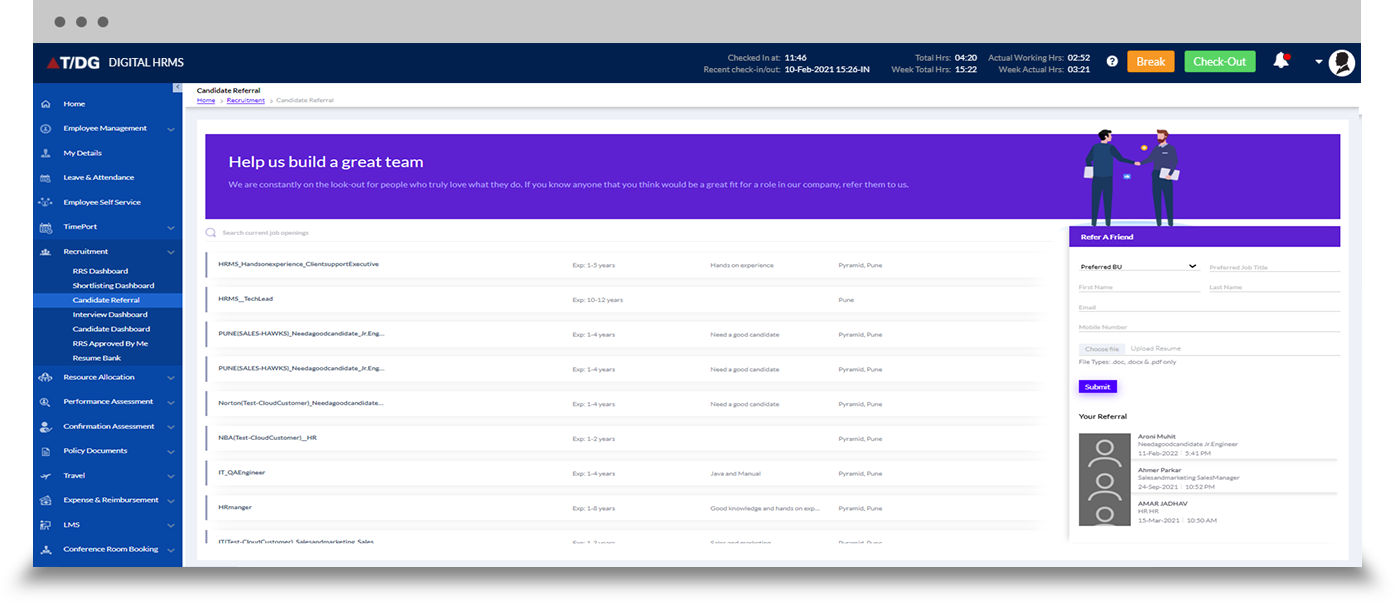 Users can add, edit or delete job postings by clicking on the View Job Postings tab under the Recruitment tab. Users can view a list of jobs, along with relevant details. Through the system, the recruiter can post these openings on the company website.
Digital HRMS makes it easy for the hiring Managers to keep a track of the candidates shortlisted and those who have been called for an interview. Basically, the user can track the status of all the candidates at the various stages of the interview process.
Through the Digital HRMS, the Recruitment team can maintain a repository of the resumes of candidates they have sourced, candidates who have applied through the website, and referrals.
Subscribe to Our Blog and get regular updates