HRMS vs HRIS: Explore Differences between the Types of HR Software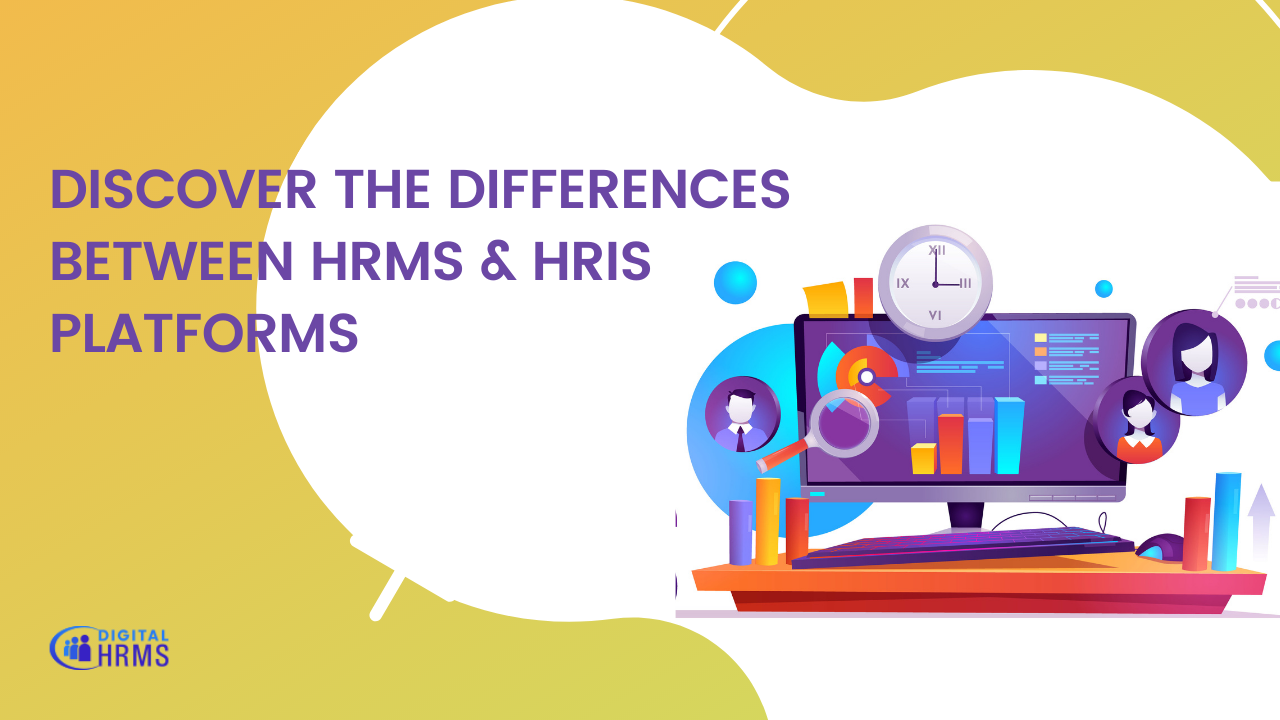 Author:

admin

Added:

20 Apr 2021
251
When searching for tools to automate the HR processes, you'll come across acronyms like HRMS and HRIS, as well as names like talent management system, payroll, and applicant monitoring system. This might make you wonder which software to choose and what's the difference between terms like HRIS and HRMS. Can these terms be used interchangeably? What are the applications of these platforms. Here we shall have a look at the difference between HRMS and HRIS.

Human Resources Management Software (HRMS)
The Human Resource Management System (HRMS) is a piece of software that automates all human resource tasks. So, the HRMS software is a bundle that includes all of the individual HR software we've covered so far, as well as a slew of other features. A HRMS software offers a distinct module for every HR function and here are the key modules you find in
Digital HRMS
, which is an advanced HRMS software developed by
The Digital Group
.
Time & Attendance Management
Leave Management
Recruitment Gateway
Onboarding
Training and Development
Automated Reports
Employee Self Service
Surveys
Travel & Expenses
Human Resource Information System (HRIS)
Human Resource Information System (HRIS) is a concept for employee information management programme that is designed to handle and monitor employee data in a systematic manner. Employee information, both personal and technical, can be stored in the HRIS. The program allows the HR department to have quick access to full employee details without having to manually manage folders. Some models of HRIS, a concept common in the United States, have additional features added to make the HR department's daily tasks easier. The additional modules/functionalities are as under:

Benefits management
Payroll
Time & Attendance
Training & Skill Development
HRMS vs HRIS: The Takeaway
HRMS and HRIS have essentially lost their original definitions. For our prospects and customers, they are both the same. They also use words like HCM. Regardless of how they refer to it, they all want all of the functionality available.

From recruiting to retirement, an HRMS platform focuses on all HR processes and activities related to an employee. This connects HR's core functions with applicant and employee monitoring.

Furthermore, the data stored in an HRIS is usually static information such as a permanent or current residential address, contact information, educational qualifications and credentials, tax information, official ID numbers and descriptions, and so on. This is in contrast to the fact that an HRMS system contains both static and dynamic data.

So, at the end of the day, we can safely conclude that there isn't any difference between HRIS and HRMS, as the advent of customization means that enterprises and HR teams are free to pick and choose the modules they need, which simply blurs the line between what we used to refer to as HRMS and HRIS. Today, what term you use is of hardly any significance. What matters is how your HR software is capable of helping HR teams overcome the most complex HR challenges and simplify HR process management.
Looking for an HR software that can help your HR team make streamline HR operations?

Stay connected with us on Social Media for all the latest updates.