Make Smooth and Efficient Employee Separation with Automatic Employee Separation Management System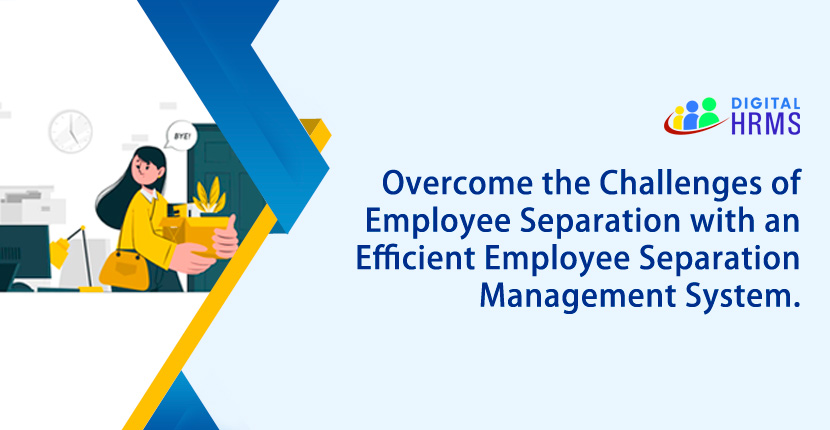 Author:

admin

Added:

02 Aug 2022
390
The termination of an employee's employment relationship with a corporation is known as employee separation and management of the process is Employee Separation Management.
One of every organization's most precious resources is its staff. Therefore, when good people leave a firm, it might be bad news for the business. Businesses emphasize making sure that each employee has a painless separation process since they may end up acting as brand advocates for the company.
There are several procedures that must be completed throughout the laborious process of terminating an employee. An HR software platform called Digital HRMS makes this simple, smooth, and far less demanding for your HR staff. Employees now have it simple when it comes to the separation process, from providing a gateway for them to submit their resignation by entering into their HR management system to organizing departure interviews at the touch of a button. The HR department's HRMS system allows them to see employee feedback and build custom departure interview forms. Depending on organizational requirements, it is simple to set the procedure for separation and important reminders/notifications.
Records must be carefully handled as employees leave, and the procedures for terminating personnel must be kept in order. Important records management processes are automated by HR document management, ensuring that files are classified and records policies are followed beginning with offboarding.
Why opt for Digital HRMS?
The Following are four steps followed by Digital HRMS
Record Resignation/Pullback
Resignation letters that are sent to functional and HR managers through email after a drawn-out process of composing and sending them are no more. Using a Digital HRMS opens the door for a new self-service resignation recording method. through a module for separation. The HR software's Resignation Pullback function enables the employee to withdraw their request for resignation.
Schedule Exit interview
Employees can fill out and submit the form by logging into Digital HRMS once HR personnel has scheduled the Exit Interview using HRMS.
Exit interview
The Digital HRMS's question builder function allows HR staff and administrators to design customized departure interview forms. The HR software may also be used to start exit interviews.
View Exit interview Feedback
Read the employee's exit interview feedback. Users of the human resource management software may also utilize this feature to export the feedback they have given to their system as a Word or PDF document.
Depending on organizational requirements, it is simple to set the procedure for separation and important reminders/notifications.
Are you interested in learning more about how a Digital HRMS might assist your HR staff in managing employee separations effectively? Find out at https://www.digitalhrms.com/smooth-employee-separation. Also, read https://www.digitalhrms.com/blogs/employee-separation-with-digital-hrms-separation-management-and-overcoming-the-challenges
Our team will contact you if you visit our website at www.digitalhrms.com or send an email to marketing@digitalhrms.com. Get 90 days of full access to the Digital HRMS for free right now. Only available for a limited time!