Reports with Digital HRMS: Why Your Enterprise Needs Automated Reporting Systems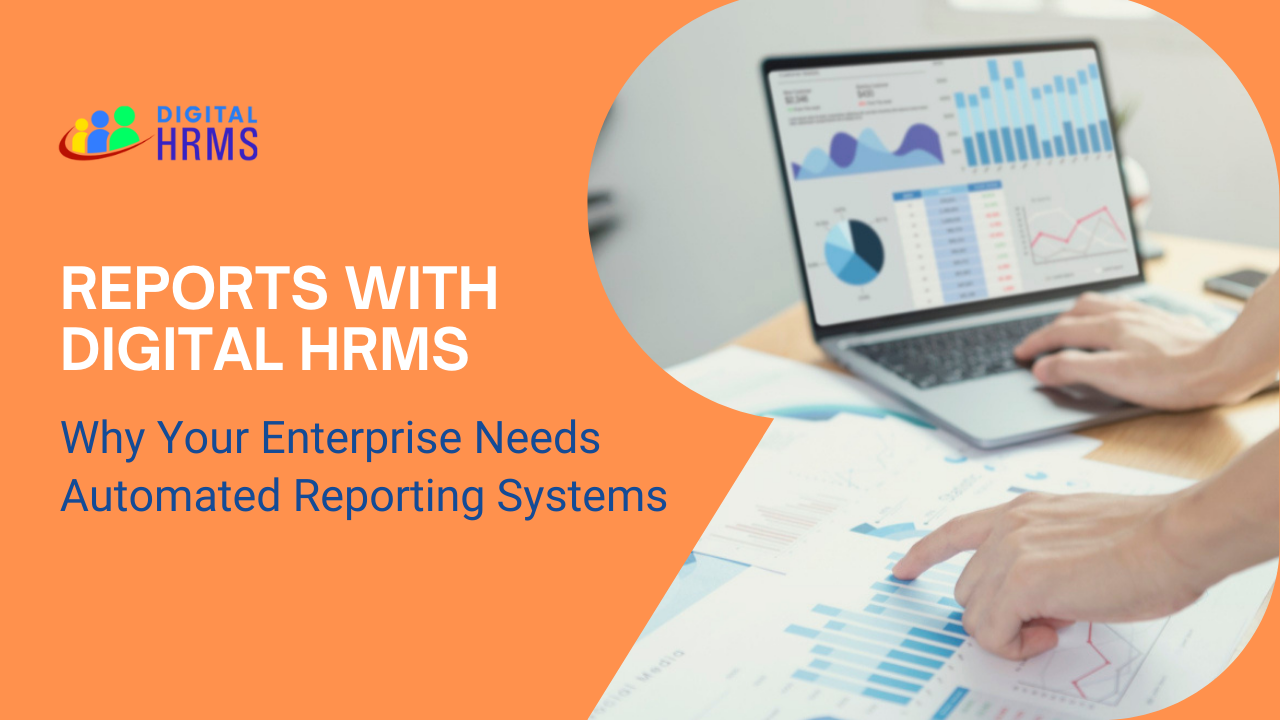 Author:

admin

Added:

17 Sep 2021
1154
We are all aware of the fact that data is one of today's most valuable commodities and, strangely, one of the most difficult difficulties. The reason for this is that, while data has immense potential, evaluating it to get the insights contained inside is more difficult than it appears. Are you curious as to why? The reason for this is that the data available to businesses is nothing like the streamlined and organized information we see on the Internet. In fact, unstructured data that cannot be evaluated using traditional methods makes up a large portion of company data.
HR data is no different, as it originates from a variety of sources and is available in a variety of formats, including emails, PDF documents, photos, social media data, figures, infographics, and so on. With so much data to consider, interpreting it all can be difficult for HR departments in businesses.
Challenges in Analyzing HR Data
Given below are the roadblocks that the HR department faces when it comes to the analysis of HR data.
Many businesses still use a paper-based approach to manage their HR tasks.

Professionals with experience in HR data analytics are in short supply.

Compliance with all applicable laws and regulations governing the collection, storage, and use of human resources data.

Lack of technology to tap into the data's potential in the HR department.

Need for advanced technology for important recruiting choices hinders the greatest talent from joining the team.
How the Digital HRMS Automated HR Reporting System is the Solution
Automated reports can be generated at the touch of a button with the Digital HRMS Reports and Analytics module. HR Teams may easily develop useful and insightful reports thanks to the comprehensive HR Data analytics and reporting capabilities of Digital HRMS. Furthermore, Digital HRMS allows users to create bespoke reports based on any collection of data or characteristics. The reports can also be archived and downloaded at any time after they've been generated.
Benefits of HR Reporting System of Digital HRMS
1] Improved Hiring Decision Making
Any organization's recruitment department has access to a massive amount of data, and the great news is that an automated HR reporting system can perform wonders with it. Analyzing the abilities and degree of experience of past employees in a specific role, for example, might provide the recruiting team an idea of the kind of applicants to look for that would be the greatest fit for that position.
2] Insights for Planned Recruitment
Certain conditions or types of tasks necessitate the addition of more persons to the team. These are the scenarios that need the hiring of new employees, and they can be identified when the HR department is able to analyze historical data. This will ensure that the recruitment team is prepared with a list of promising applicants in the event that the team need new recruits.
3] Performance Assessment of Employees
Without access to a platform that makes performance evaluation of employees a methodical process, tracking the performance of hundreds of people in an organization can be difficult. A HR reporting system like Digital HRMS can track and analyze employee performance data to give the HR staff the information they need to build a fair appraisal system for all of the company's employees.
4] Next Level of Employee Engagement
The fall in employee engagement levels is a cause for concern in today's workplaces, with nearly 80% of employees reportedly disengaged. This emphasizes the importance of HR taking the appropriate steps to improve employee engagement. It's useful to be aware that employee engagement is influenced by a variety of things. While surveys can help HR better understand employees and uncover issues that worry them, it is only through the use of analytics with the help of a HR reporting system that HR can obtain the insights necessary to make the best decisions possible in this respect.
5] Access to Business Insights
HR departments now have the time and energy to contribute to strategic decision-making thanks to new age HR software systems that automate routine HR duties. The good news is that, armed with HR data analytics and HR reporting system, they are in a position to contribute to decision-making.
Want to explore the advanced HR Reporting capabilities of the Digital HRMS advanced HR Reporting platform?
Stay connected with us on Social Media for all the latest updates.