Infographics Blog on the Benefits of Automated Attendance Tracking with Digital HRMS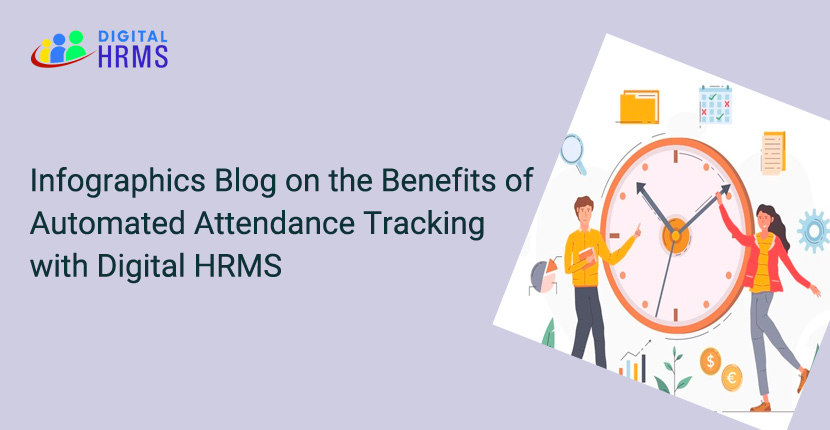 Author:

admin

Added:

28 Dec 2021
471
The formation of a geofence or virtual barrier around a given location is referred to as geofencing. Marketing, brand promotion, security, and automobiles are just a few of the fields where geofencing technology has been used. This technology is used by Digital HRMS to track employee attendance in real time.
You'll be astonished by how easy it is to monitor attendance with geofencing technology, as well as how effective it is. Employees only need a smartphone with the Digital HRMS mobile app loaded on it. Digital HRMS is a comprehensive human resource management system that incorporates data from biometric attendance tracking devices and access card readers.
However, employers can utilize the geofencing-based automated attendance tracking tool to track the attendance of remote employees and staff who work on the go. In addition, geofencing technology can act as a backup in the event that the attendance tracking device malfunctions and fails to record data.
Automated Attendance Tracking with Geofencing
To begin with, employing geofencing for automated attendance tracking is a rather basic notion. The administrator must define the perimeter of a map region or location. This will be the location where the employee's attendance will be recorded.
For example, if an employee is scheduled to visit a client, the administrator must first designate the area on the map, which can be as little as a 100-200 metre radius surrounding the client's office. When an employee enters a predetermined region around the client's office, his or her attendance is now automatically recorded. All the employee has to do is grant permission for the Digital HRMS mobile app to receive real-time location data.
Benefits of Automated Attendance Tracking with Digital HRMS
The Digital HRMS mobile app is available for Android as well as iOS and provides some features of real-time attendance tracking using geofencing technology. The infographics below showcases some of the key benefits of attendance tracking with the Digital HRMS mobile app.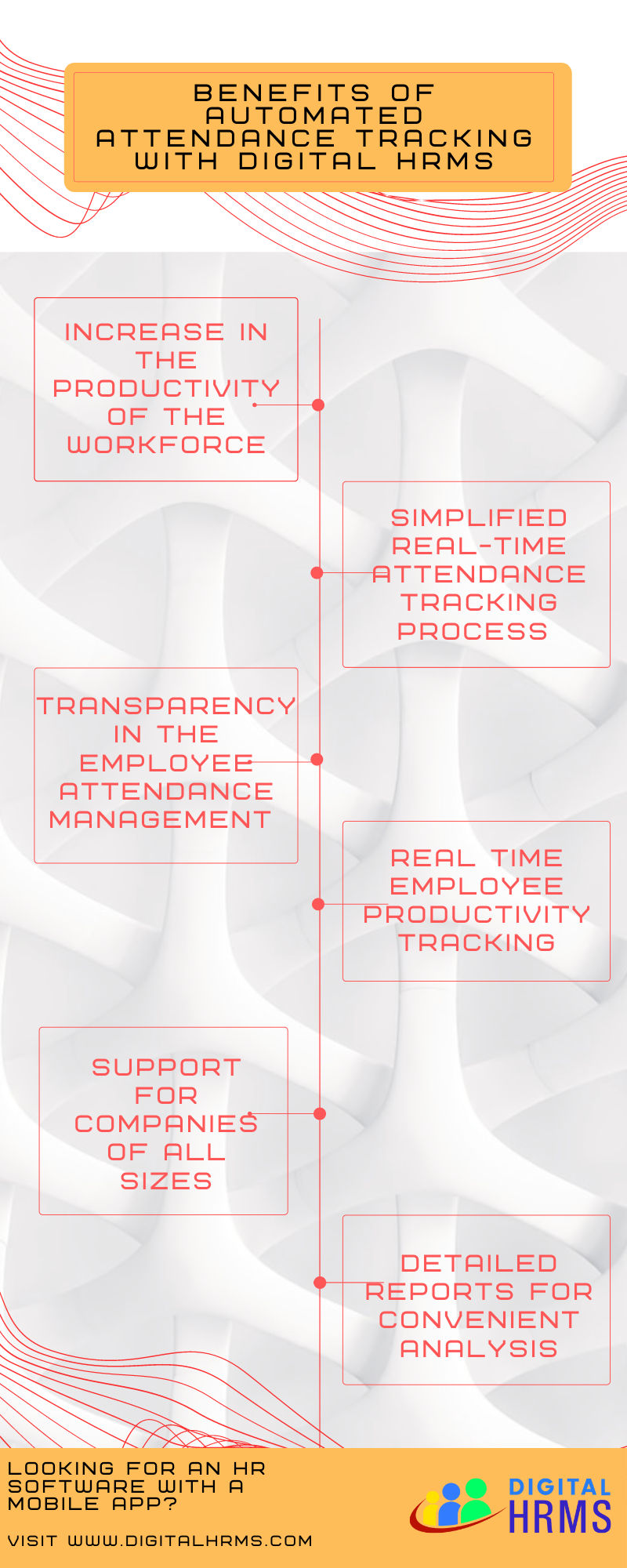 Increase in the productivity of the workforce.

Simplified real-time attendance tracking process for both the employee and the employer.

Transparency in the employee attendance management process.

Employee productivity is tracked in real time.

Designed with capability to support companies of all sizes.

It is incredibly useful to check for buddy punching and erroneous work hours.

Detailed reports for convenient employee attendance analysis.
Want to explore more about automated attendance tracking with the Digital HRMS app?
Visit our website
www.digitalhrms.com
or drop us an email on
marketing@digitalhrms.com
and our team will get in touch with you. Now, get Full access to the Digital HRMS HR software platform Free for 90 Days. Available for Limited Period only!
Stay connected with us on Social Media for all the latest updates.