A Walkthrough of the Highly Configurable Modules of Digital HRMS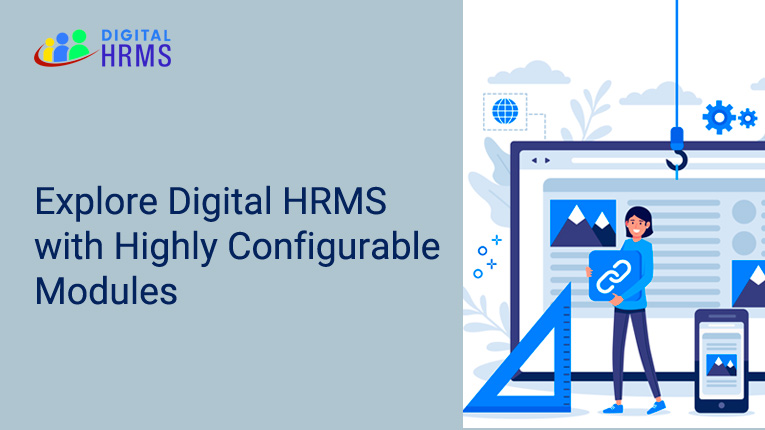 Author:

admin

Added:

03 Nov 2021
361
Digital HRMS is an advanced customizable HR software solution that offers multiple modules to cater to every HR function. The platform is designed to be fully customizable which means every module can be easily configured to meet the needs of every enterprise and conform to their organizational policies. It automates the HR processes and serves as the ideal HR partner for every enterprise. The benefits of HR management with Digital HRMS are many, and increased HR efficiency is just one of them. What's more, the pandemic and remote work has brought forth new challenges for the HR team and the Digital HRMS HR software platform has evolved to help the HR overcome the challenges of employee management even during remote work.
Here we shall look at the configurable modules of the Digital HRMS customizable HR software platform.
Digital HRMS offers a comprehensive Recruitment module that includes all aspects of the recruitment process, including defining the requirement, sourcing candidates, scheduling interviews, initiating hiring, and publishing the offer. On different dashboards, the status of each candidate at each level may be viewed.
By reducing paperwork, Digital HRMS makes it simple for your HR department to provide a positive onboarding experience for new hires. The Employee Management module is intended to make all of your onboarding processes more efficient. Users can change numerous employee profiles at once using the bulk information update option. Employees can also customize policy documents according to the client's requirements using this module.
Digital HRMS provides a single consolidated platform for the storing and maintenance of all employee data. Once an employee's account has been created in the HRMS system, he or she can read, add, or change personal and professional information according to the permissions set up. Furthermore, the HR department may utilize the platform to conduct a multi-filter search for individuals and update large amounts of data at once.
The Policy Documents module was created to make it simple for HR to share critical policy documents with employees. Employees can read and sign self-attestation forms for published policies, saving time on emailing materials to each employee and then asking them to respond via email. The detailed attestation report is visible to the HR/Administrator.
Employee empowerment contributes to greater employee morale and productivity in the workplace. Employees can request basic services directly through the portal using the Employee Self Service module.
This is one of the most important elements of an HR software platform since it helps you to manage all of your employees' leave and attendance with extreme accuracy and precision. Whether your organization has employees working multiple shifts or offers attendance regularization, be confident that you can manage it all with Digital HRMS. Furthermore, this tool allows you to create customized leave and attendance reports and export them in a variety of formats for simple reference. By logging onto the customizable HR software platform, they may easily apply for leaves and keep track of their approval status.
The resource allocation process is managed to ensure that each project receives resources that match the project's desired skillsets. Every organization has a RAS Provider who is in charge of allocating resources to various initiatives within the organization. The Resource Allocation module is intended to automate resource allocation, increase transparency, and ensure optimal resource utilization within the business. The Admin assigns new employees to their appropriate teams in this manner.
Organizations can use Digital HRMS to measure employees' working hours and manage their productivity using an automated system. The employee can submit their work records on a daily or weekly basis on the TimeSheet tab. To keep track of their tasks, the employee must input completed tasks together with their time duration.
Performance evaluation is essential for framing assessments, and you can now rely on Digital HRMS, your perfect HR partner, to supply you with the data you need to conduct a fair appraisal evaluation. Additionally, you may use the Customizable Performance Assessment tool on your HR management platform to configure the parameters that govern the appraisal computation process. Create competency-based forms and specify which users with their HRMS software login IDs can read and update the appraisal forms. Digital HRMS offers a variety of assessment methodologies for evaluating individual, group, and organizational performance.
The Digital HRMS Training Module enables the Training department to assign online training sessions to employees as well as plan classroom trainings with ease. Users can also check their training calendar and the trainings that are accessible to them for each quarter in the module. It enables seamless administration of staff training needs, with a mix of classroom and online trainings.
Users can reserve conference rooms by logging into Digital HRMS and using the Conference Room Booking module. Based on permissions, the user can reserve a conference room as well as view, update, and delete existing bookings.
Raising requests for employee travel and expenses, as well as keeping track of them, can be a challenge for a company, but the Travel module of a HR software can help. With the press of a button, users can create new requests as well as sort current ones. The manager can also create travel requests for team members using this module of Digital HRMS.
Every company has people who travel for business to different parts of the country or even abroad. The Expense & Reimbursements module is intended to assist employees in requesting reimbursement for expenses incurred during office tours. It's a fully adjustable module that allows the corporation to tailor each piece to their specific policies.
Surveys are a wonderful way for businesses to stay up to date on employee perceptions and to get feedback from employees on a variety of topics. Employee engagement is boosted by responsiveness to employee feedback. You may quickly construct anonymous and confidential surveys using Digital HRMS and generate customized reports from the data.
Reports are necessary for assessing the data that is generated and saved in the various modules of Digital HRMS. Digital HRMS allows users to create bespoke reports in a variety of formats and save them for future use. With the click of a button, the user can view/download updated reports. The option to manage report access based on various roles and permissions is provided by Digital HRMS. In Digital HRMS, an authorized user can create global reports that include data from all group entities and share them with other group entities' users.
Employee separation can be a time-consuming process with numerous formalities to complete. Digital HRMS is an HR software platform that makes this process simple, frictionless, and significantly less taxing on your HR team. Employees now have it easy when it comes to the separation process, with options such as signing in to their HR management system to register their resignation and scheduling exit interviews at the press of a button. On their HRMS system, the HR department can develop custom exit interview forms and view employee comments. Separation workflows and important reminders/notifications can be readily modified according on organizational needs.
Want to explore more about the Digital HRMS customizable HR software platform?
Stay connected with us on Social Media for all the latest updates.
Why You Need Fingerprint Recognition in HRMS Apps Today