Why Resource Allocation is the Key to Effective Talent Management
Author:

admin

Added:

30 Jul 2021
549
Talent management is a term used to refer to the strategic means of hiring, developing, and maintaining a company's resources as well as improving their performance. One of the most important functions of Human Resources is talent management, which is frequently integrated into a larger corporate plan. There are different components that add up to efficient talent management, which starts with bringing in the right people and ends with making the organization's resources feel valued and appreciated. The following infographics showcases the elements of talent management.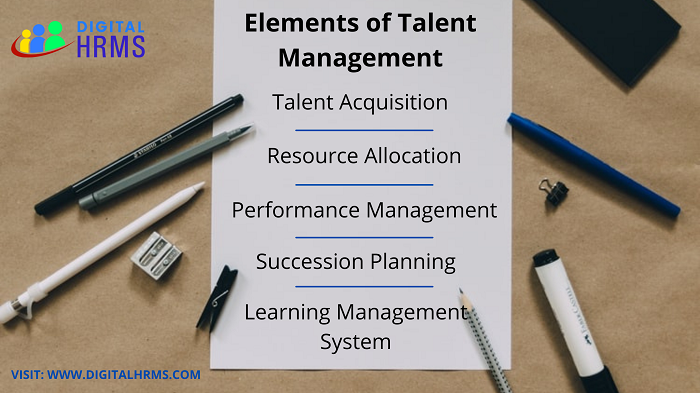 Once you have the right talent onboard, the next step is all about allocating the talent in a way that increases efficiency and also makes the resources feel motivated and happy with what they do. Assigning the resources to the projects where they shine is what effective resource allocation is all about.
Here we shall look at how resource allocation forms an integral part of effective talent management in an organization. What is resource allocation? Resource allocation and management is the process of managing the resources in an organization in a way that it promotes optimal resource utilization. In other words, the goal is to allocate the resources to the right project, based on the project requirements, expertise of the resources and their skillset. Effective resource allocation is frequently a critical aspect in a project's success. After all, a great team is made up of people who are the best at what they do.
Understanding the Process of Resource Allocation
When it comes to managing the resources in an organization and allocating them, the process is easier said than done. The goal of resource allocation is to achieve a balance in resource distribution so that each team has the proper quantity of resources to finish projects within the timeframes set.
Most companies now have a resource allocation manager who is in charge of managing and assigning the company's resources to various divisions according to project needs. There are multiple challenges that may come up and the goal is to overcome these challenges. Some of the key challenges are as follows:
Managing resources in a smooth manner in the event of project deadline or scope modifications

Monitoring resources and their availability at all times to avoid project delays caused by resource shortage

Using skillsets to distribute resources to multiple projects

Ability to respond to uncertainty in one or more project areas without delaying the project's execution

To ensure that no project is adversely affected, even when resources are shared between two or more of them
Why Choose an Automated Resource Allocation Platform
The many challenges of allocating resources to the different projects can be overcome with an automated resource allocation platform and
Digital HRMS
is an example. The Digital HRMS resource allocation platform makes it simple for the resource allocation manager to assign resources to different business units, track the start and end dates of each resource's allocation, and share resources across two or more projects as needed. Here we shall look at the key features of the Digital HRMS resource allocation platform.
Allows Admin to manage access and permissions for the Resource Allocation process in a few clicks

Provision for the RAS provider to end previous allocation and add new allocation to a resource from a single interface of the resource allocation platform

Employee Search option makes searching for an employee quick and easy

Provision of RAS reports for details of allocation

Allows RAS providers to view the allocation details of resources for seamless allocation

Provision for complete as well as partial resource allocation
Benefits of Effective Resource Allocation
When you have an automated resource allocation platform to allocate resources, your enterprise experiences the multiple benefits of effective resource utilization, which is as follows.
Promotes the most efficient use of the organization's resources while also avoiding the needless hiring of new employees

Real-time updates on each resource's allocation status, allowing the resource allocation manager to forecast resource availability

Prevents project deadlines from being extended owing to unexpected resource shortage

Makes resource forecasting simple to implement in order to maximize resource utilization

Paves the way for easy and accurate resource forecasting

Facilitates increased team productivity and increases team efficiency

Prevents resources from being underutilized

Helps facilitate the availability of resources based on specific skillsets as required for the organization's varied projects

Allows managers to better plan for the team's capacity in terms of resources and how to best distribute them to produce the greatest results
Want to explore more about how the resource allocation platform of Digital HRMS can help your enterprise manage resources more effectively?
Stay connected with us on Social Media for all the latest updates.