While Choosing an HRMS Solution, Why and What Top Features You Should Consider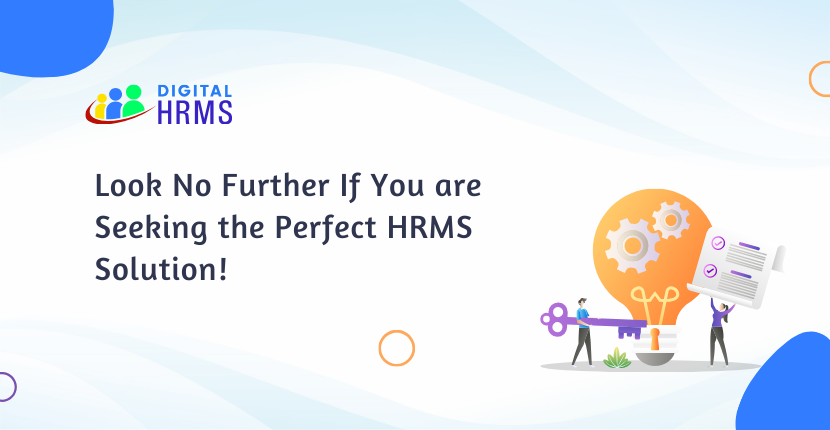 Author:

admin

Added:

05 Sep 2023
104
Systems for managing human resources are electronic solutions that assist organizations with their HR procedures. These are the HRMS platforms that come to aid the HR challenges faced by organizations. They can assist in streamlining timesheets, payroll management, employee data, employee performance, benefits administration, and compensation administration. Utilizing technology to boost productivity and assist managers in building happier, more effective teams is the responsibility of an HRMS platform.
As businesses continue to embrace the digital age, the demand for intelligent HR software solutions is soaring. The market is saturated with a plethora of options, each offering innovative workflows and tools designed to enhance efficiency. Amid this abundance of choices, selecting the ideal human resource management system for your enterprise becomes a pivotal decision. With the landscape brimming with possibilities, how can you identify the HRMS platform that best aligns with your unique needs?
This infographic blog post is your guide in navigating this critical decision-making process. It's not just about choosing HRMS solutions; it's about handpicking the features that will empower your enterprise to thrive in the modern business landscape.
1. Top characteristics of HRMS solutions desired by HR consumers
| | |
| --- | --- |
| Features | Percentage Desired by Consumers |
| Payroll | 43% |
| Personnel Tracking | 41% |
| Time and Attendance | 31% |
| Onboarding | 27% |
| Application Tracking | 25% |
| Benefits Administration | 25% |
| Performance Management | 22% |
| Employee Scheduling | 9% |
| Goal Management | 6% |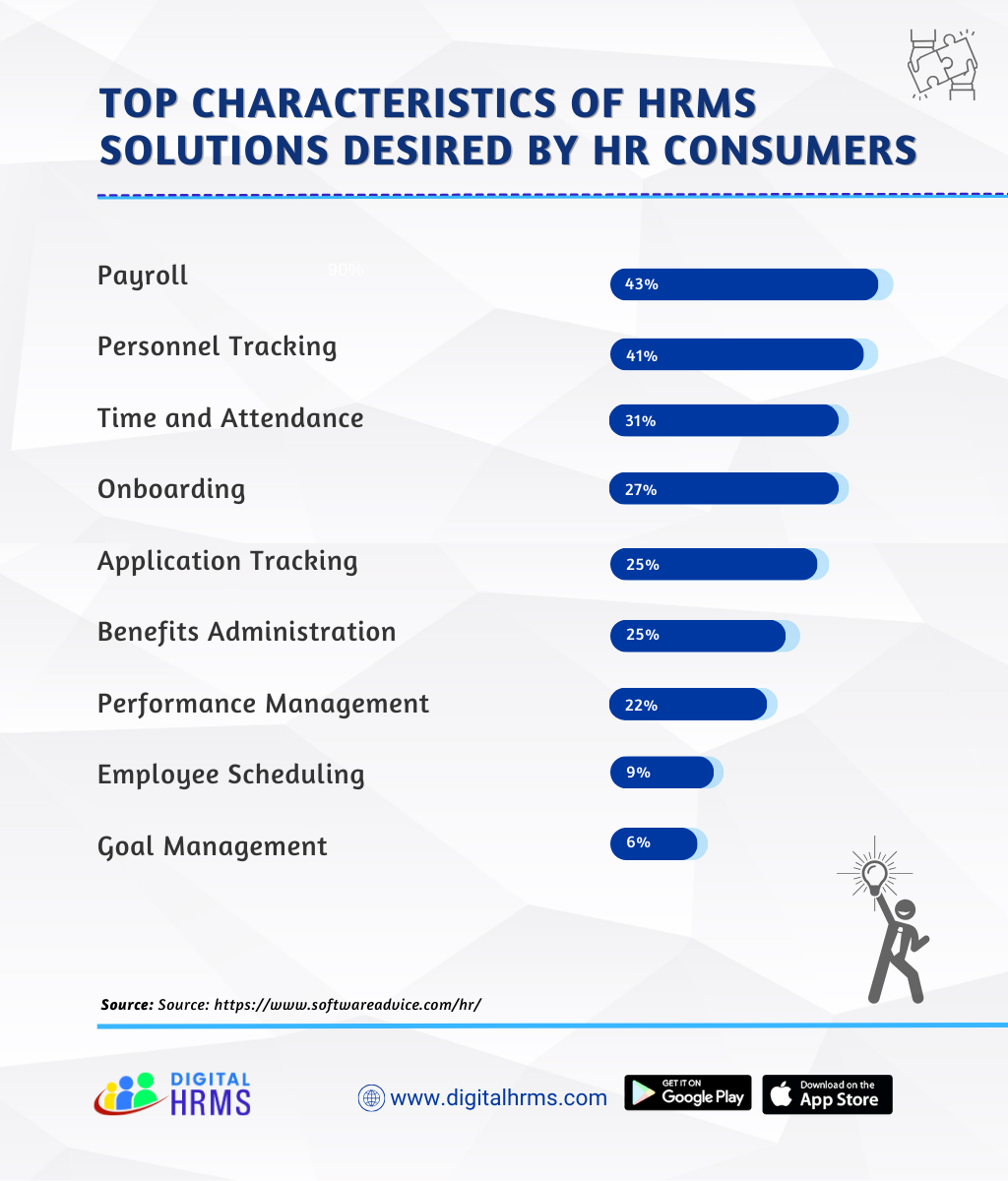 2. Key HR issues that tailored HRMS solutions can address
| | |
| --- | --- |
| Issues Addressed | Percentage |
| Identifying and hiring candidates for open jobs | 36% |
| Conducting employee terminations or layoffs | 26% |
| Managing benefits and perks programs | 23% |
| Ensuring internal and external compensation equity | 14% |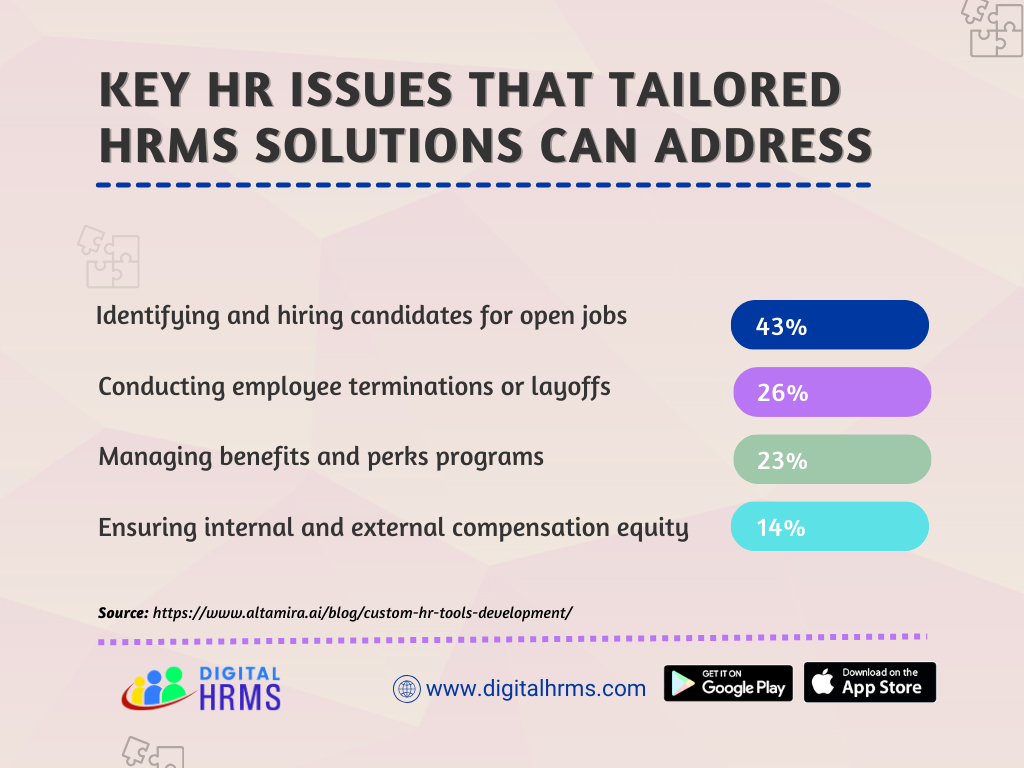 3. Companies Opting to Change Their Present HR Software with Efficient HRMS Solutions
According to a KPMG poll,
72% - of HR executives believe a new HRMS may benefit from enhanced functionality.
48% - of CEOs intend to change their HR structure soon in order to achieve cost-effectiveness, increased efficiency, and higher quality.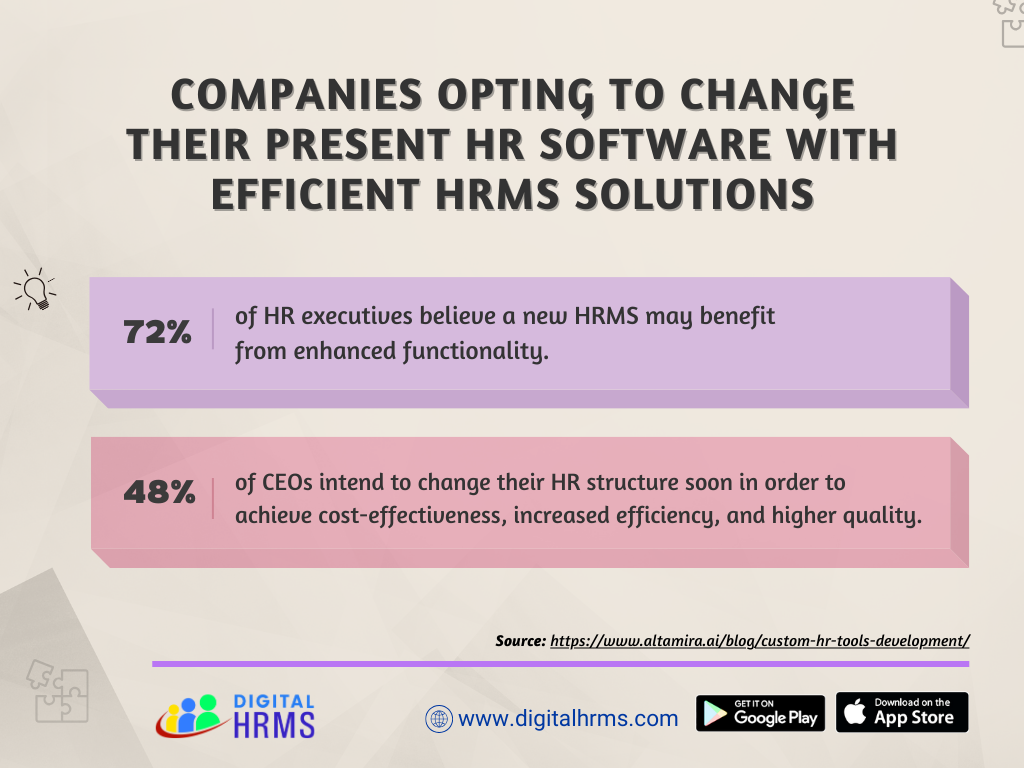 In conclusion, the journey of selecting the right HRMS solution is no longer a mere choice; it's a strategic investment in the future of your business. As you embark on this decision-making journey, remember that the best HRMS solution is one that aligns seamlessly with your organization's unique needs and goals. It's about choosing features that not only streamline processes but also elevate employee experiences and drive business growth.
Amidst these considerations,
Digital HRMS
emerges as a shining star, with its comprehensive suite of features, user-friendly interface, and adaptability to various industries. It's not just an HR management system; it's a catalyst for transformation, enabling businesses to efficiently manage their workforce while fostering a culture of collaboration and innovation. Choose wisely, and let the right HRMS solution be your partner on this transformative journey. Your HR process automation deserves nothing less than the best.