Understanding the Aspects of HR Data Privacy with GDPR Compliance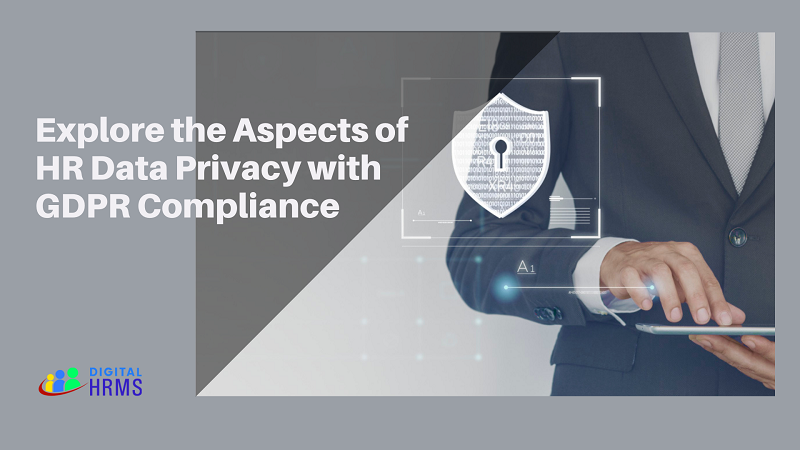 Author:

admin

Added:

12 Aug 2021
590
The General Data Protection Regulation (GDPR) came into effect from 25th May 2018, and the new set of regulations were formulated for assured privacy of user data in the European Union countries. However, the GDPR is applicable to countries beyond Europe as well, and it is applicable for any business that deals with clients in the EU countries. Today, almost every organization across the globe have realized the significance of GDPR Compliance as well as the consequences of not being careful enough with user data. The GDPR has revolutionized the way organizations look at user data.
Since GDPR is about data, it is all the more important for data intensive processes. Since the HR department of organizations end up managing and handling large volumes of data, including sensitive information and details about employees and prospective employees, GDPR becomes necessary for HR Data. A GDPR Compliant HR Software like
Digital HRMS
can help enterprises assure data privacy. Here we shall look at the many aspects of implementing HR Data privacy with GDPR Compliance, regarding what the HR teams could do in order to ensure complete compliance.
1] Focus on the Individual Rights of Employees
Individual rights of access, objection, and rectification, as well as new rights to data portability, restriction, and deletion, will be important for organizations to be aware of, when it comes to implementing HR Data Privacy with GDPR Compliance.
Provide GDPR-related guidance and training

Conduct testing to ensure that the system can respond appropriately to the exercise of each individual right

Establish defined retention periods for specific types of HR data
2] Enhanced Quality of Data
When we talk about the "Quality" of data with reference to HR Data Privacy, what we mean is that the HR data should not have data that is held beyond the specified time period, because it is the personal information of the employees and the prospective employees.
Initiate clear reporting and guidance frameworks

Set clear HR data retention limits

Define practical guidelines to ensure that problematic processing operations are detected

Analyze whether your organization needs to appoint a formal Data Protection Officer (DPO)
3] Transparency on the Usage of Personal Data
Individuals engaged by any organization need to be provided with more detailed information regarding the usage of their personal information. This can be defined in a HR Data Privacy Policy that can be shared at the onset of the business relationship.
Review/update employee and applicant-facing privacy policies

Implement procedures to ensure the Privacy Policy is shared with everyone

Consider drafting customized Privacy Policy for different relationships, such as clients, employees, prospective employees, etc.
4] Sharing of Data with Third Parties
On instances where you share HR data within a company or with third-party service providers, you must make new contractual arrangements with each of the receiver to ensure complete HR Data privacy and that the data is treated correctly.
Define personal data flows to external HR providers and update contracts to reflect new standards

Keep a tab on flows of personal data within the organization and adopt expanded data sharing agreements in compliance with GDPR

Ensure that data transfer requirements are being met
5] Effectively Managing Data Breaches
Security incidents must be swiftly identified, isolated, mitigated, and responded to in accordance with a documented HR Data Privacy Policy, and certain breaches must be reported to the appropriate individuals within 72 hours.
To notify data breaches within 72 hours, implement clear and practical data breach processes

Make sure that all HR systems and operations are protected by suitable security measures

Test and evaluate security measures on a regular basis

Inform employees that any breach must be reported immediately, and that failure to do so would result in disciplinary action.
Want to explore more on how a GDPR Compliant HR Software like Digital HRMS can help your organization ensure complete data privacy of user data?
Stay connected with us on Social Media for all the latest updates.