Training Management with Digital HRMS: Take Your Employee Training Initiatives to the Next Level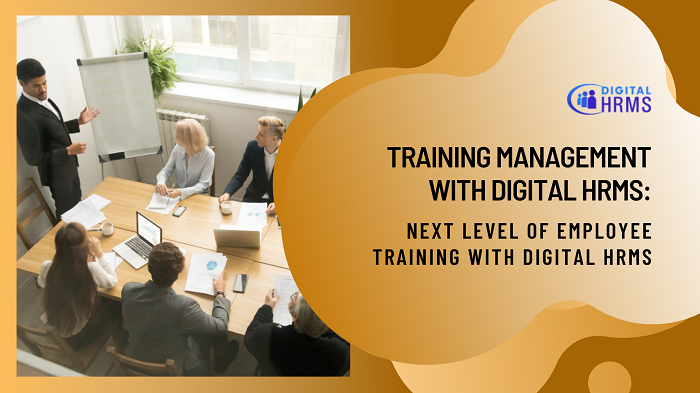 Author:

admin

Added:

01 Jun 2021
582
Employee engagement is one of the key focal areas of HR nowadays, as people are the most valuable asset to any firm. Corporate training is one of the most important HR initiatives for keeping employees engaged and motivated. However, because the majority of the workforce now works from home, planning and implementing
corporate
training sessions might be difficult. As a result of this, many enterprises have put a pause on their corporate training initiatives.
The good news is that, owing to modern HR technologies, remote work does not have to imply the end of employee training programs. Yes, HR software is an excellent tool employee training management in enterprises today, even in this era of remote work. Here we shall look at how
Digital HRMS
, an advanced HR software platform, offers a set of features to facilitate effective corporate training initiatives through a virtual platform.
Advanced Employee Training Management System with Digital HRMS
Digital HRMS offers a dedicated learning management system (LMS) that has the features to enable the HR department to manage employee training initiatives online. Right from identification of training needs to managing post training feedback, everything is made possible on a single platform.
Here we shall learn about how Digital HRMS opens the doors to the next level of possibilities in corporate training, through a plethora of different features.
1] Identification of Training Needs
The very first step towards effective employee training management is the identification of training needs and Digital HRMS allows your HR/Training Team to send a notification to the employees to fill in the training requirements for a particular quarter. This way, it is possible to arrange for training sessions that create the most impact.
2] Access to the Training Calendar
The LMS module of Digital HRMS allows every employee the access to the quarter-wise training calendar. This makes it easy for the employees to plan their training sessions well in advance, ensuring their work and tasks are not hampered in the process. Even the Managers have the provision to assign trainings to their team members, based on the trainings scheduled for that quarter.
3] Access to Online Trainings
It's not always possible for every employee to be a part of the live training sessions, so that's where online trainings come as a blessing! The LMS module of Digital HRMS offers the provision for online trainings, where employees can get the opportunity to learn at their own pace and whenever they have time. This adds a new level of convenience when it comes to employee training management.
4] Pre and Post Assessments
Assessments help you understand how much you have grasped from the training, and so the LMS module of Digital HRMS allows for pre as well as post assessments to help the participants answer some quick questions to help the trainer assess their understanding of the session. Not just that, Digital HRMS also brings you the 'Quiz' feature that allows the trainers to embed short quizzes between online training material, to the purpose of assessments. This is a key step towards employee training management.
5] Clear Depiction of Training Goals
Training goals help the teams as well as the individual employees to dedicate a specific amount of time towards trainings every quarter. The employee training management system of Digital HRMS showcases the training goals of employees in the form of a graphical representation for clear understanding.
Want to discover more about how the Digital HRMS employee training management system
can help your HR team manage employee training initiatives more effectively?
Stay connected with us on Social Media for all the latest updates.
Read:
Infographics on How Your HR Team can make Use of HR Analytics