Time Tracking with Digital HRMS: Witness Easy Analysis of Employee Productivity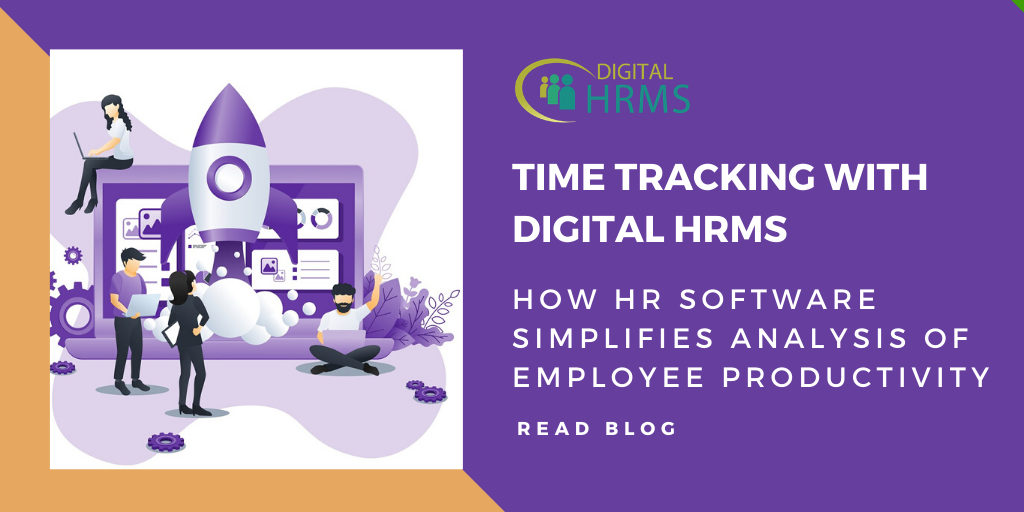 Author:

admin

Added:

15 Jun 2020
778
Employee productivity is a very important aspect because it is directly linked to performance reports and payroll. In the current scenario, when so many organisations have their employees working remotely from their homes, the significance of analysing employee productivity is higher as compared to normal circumstances. Moreover, paper-based productivity tracking methods are of little use in the remote work scenario and so is the approach of using spreadsheets. The reason is that both these methods have increased chances of human errors.
The solution is the use of an automated system for tracking employee productivity, which automatically tracks daily work logs of employees for easy analysis of productivity and performance. The new age HR software is the ideal solution for the challenges the Enterprises are facing when it comes to productivity management during the times of remote work.
Digital HRMS is an integrated modular HR software that has dedicated models for every aspect of employee management. With the timesheet module of digital HRMS, it serves as ideal platform for tracking and managing employee productivity.
Employee Productivity Analysis Made Easy with Digital HRMS
Digital HRMS offers a time tracking system that can be easily used by organizations to analyze employee productivity even during scenarios where the employees are working remotely. Given below are the key benefits of monitoring time, task and productivity with Digital HRMS.
Allocation of tasks to employees made easy.

Timesheets module facilitates automated report generation.

Quick and easy updates to the client on task completion by the resource and number of hours worked, which is required for billing.

Tracking and approval of allocated tasks made easy.

Provision to record employee working hours for sharing with client to ensure transparency on the resource activities.
The Timesheets module of Digital HRMS provides all the key functionalities that organizations need today for seamless tracking of employee performance and also keeping a record of the same for the client's reference. The Timesheets module of Digital HRMS was designed for the purpose of enabling employees of an organization to enter their work logs as well as their everyday tasks on the Timesheets, get approval from their reporting Manager for the tasks entered, and allow the employees as well as the Managers to generate automated work log/task reports, as and when required.
As mentioned above, Digital HRMS facilitates automated report generation for the work logs and tasks recorded by each and every employee. This feature is extremely helpful for the reporting Manager to quickly analyze the productivity of each resource, with the data available on the system.
Want to explore more on how Digital HRMS can help your organization manage employee productivity effectively?
Visit our website www.digitalhrms.com or drop us an email on
marketing@digitalhrms.com
and our team will get in touch with you.