Scheduling Meetings with Digital HRMS: Exploring Common Conference Room Booking Issues and their Solution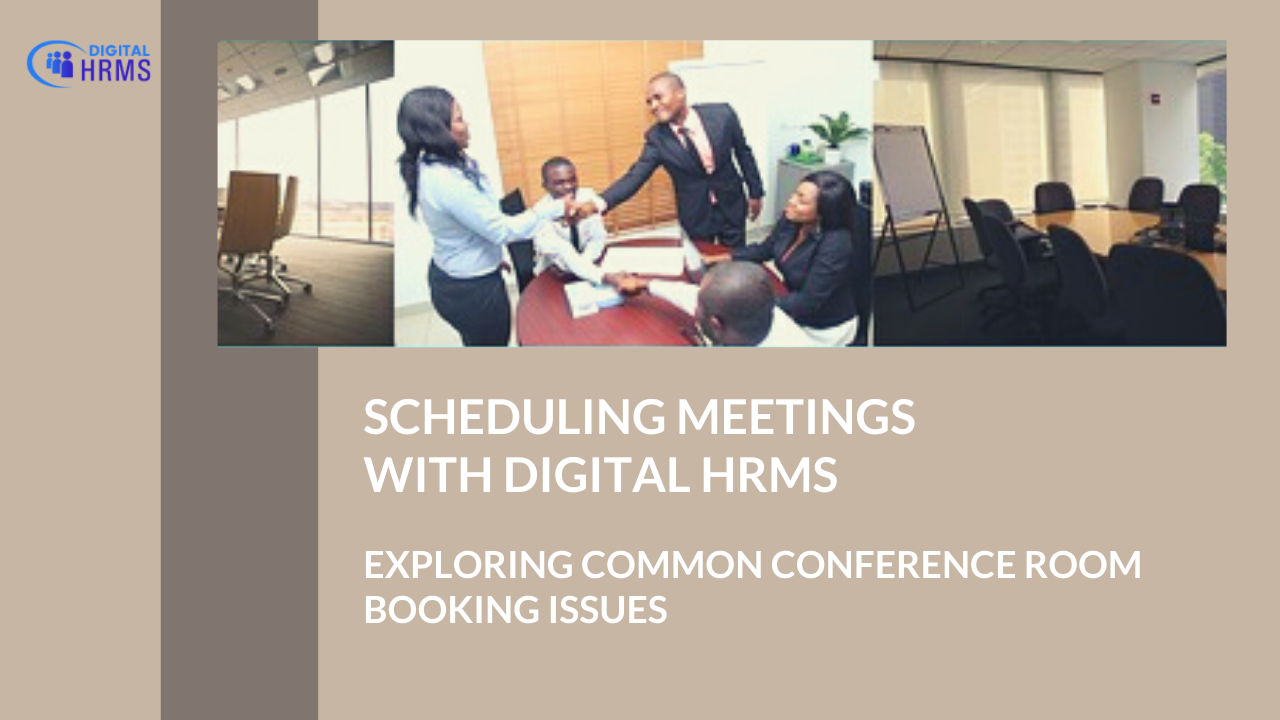 Author:

admin

Added:

23 Nov 2020
338
All of us working in corporate offices have experience of booking conference rooms for brainstorming sessions and discussion and meetings with other teams. However, many times booking a conference room is not as simple as it's meant to be, because we fail to find a conference room that best meets our requirements. This is often because the entire booking process is not managed well and there is no way employees can find out if the room they are looking for is already book for a particular time slot. This creates confusion and chaos and the employees end up wasting time. Given below are some of the common challenges that employees have to face when it comes to scheduling meetings in conference rooms, and how an advanced Conference Room Booking System like
Digital HRMS
can help.

1] Booking of Multiple Rooms for the Same Meeting
Now, this one is pretty common in enterprises and is all about booking multiple rooms for important meetings, such as audits and client visits, to ensure there are no last minute hiccups. While it's always good to have a backup, it's important to cancel the additional bookings on time so that those rooms are available for booking again.
An advanced Conference room booking system like Digital HRMS ensures that the rooms booked will be available, so that there is no need for people to make multiple bookings.
2] Rooms Booked for Meetings that will No Longer Take Place
When the booking process for conference and meeting rooms is managed manually, one of the biggest challenges that come up is the fact that rooms are booked immediately after a meeting as announced, never to be cancelled even after the meeting is postponed or would no longer take place. This is a problem in large organisations with higher number of employees and limited conference rooms. It prevents people from booking a conference room even if they need it.
An advanced Conference room booking system like Digital HRMS helps in this scenario because it sends notifications for all bookings, reminding the stakeholders of the bookings made, so that they can cancel one or more bookings as relevant.
3] Using Conference Rooms without Booking
Now, this one is another common challenge in enterprises. There are many individuals who simply do not "know" about the existence of a booking system, and instead walk into a room and start the meeting. This can create confusion if there is no online conference room booking system, as then there would be no way to figure out if the occupants of a room have booked the room for the purpose.
Using a conference room booking system will help employees to find out who has booked the room for a particular slot, thus avoiding confusions.
4] Coordinating with Multiple Teams
This is another challenge when it comes to booking conference rooms. When there is a meeting that involves multiple teams, it can be difficult to communicate to all the team members in case there is a change in schedule of the meeting. This leads to confusion and results in team members not being present in the meeting simply because they were not aware all the changes made in the schedule.
Digital HRMS sends email notifications to make sure everyone is in the loop when it comes to changes in the schedule and other updates. This way, there is good communication between all attendees and nobody is left out.
Want to discover more about how Digital HRMS can help your employees streamline conference room bookings?

Discover the Digital HRMS Mobile App for Android and iOS users.