Infographics Blog on Why HR has an Increasingly Significant Role in Data Security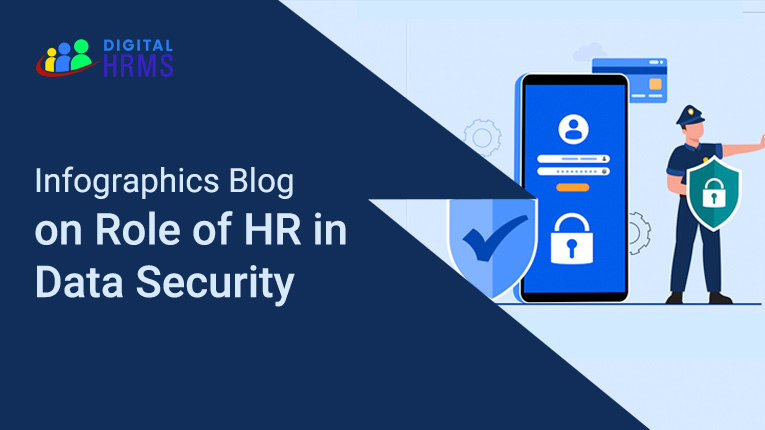 Author:

admin

Added:

22 Oct 2021
268
As the enterprises and their business operations go digital, data has become more significant than ever. Today, data has emerged as one of the driving factors behind the success of enterprises. It comes as no surprise that hackers are out there to get their hands on enterprise data in order to get the upper hand. That makes data security one of the foremost responsibilities for organizations today.
While there are many forms of enterprise data, perhaps the most sensitive is the data managed by the Human Resources department. This is because it consists of the sensitive details of the employees as well as the job applicants and there can be severe repercussions if this data lands up in the wrong hands. To prevent this and to ensure complete security of HR data, the HR department in the new age enterprises today are taking more responsibility than ever. The advanced HR Software today are playing a key role in helping the HR team implement data security practices in the enterprise, including the creation of awareness among the employees about the significance of HR data security and the consequences of compromised security of data.
Majority of Data Breaches are Caused by Employees
Yes, you've heard that right! As astonishing as it may sound, studies indicate that only 10% of threats to HR data security are caused by external factors. The infographics below showcases some statistics on the role of employees in data breaches in enterprises today.
Human error is the reason behind most of the breaches to HR Data security. In fact, the loss of a laptop or other mobile device caused 35% of data breaches, third-party errors caused 32%, and unscrupulous individuals or other insiders caused 22%.
Work is evolving, and the digital tools we use to create and interact are driving that transformation. However, technology is only a part of the story. Technology can be misused or even abused in the absence of training and discipline
Human resources is, at its essence, about managing people. It is in charge of staff training, onboarding, fostering a healthy company culture, and resolving employee misconduct - all of which are fundamental to advanced HR data security and privacy.
HR can assist an organization in creating a work environment that allows employees to effectively use new technology without jeopardizing the safety and security of the company's data. Changing HR data security policies, beliefs, and attitudes should be a top focus for all businesses, and an advanced HR software like
Digital HRMS
can help the HR in implementing the same. HR is frequently the first point of contact for employees, therefore it is critical that the HR works towards establishing and maintaining a strong cybersecurity culture.
Although IT sector has been conducting cybersecurity training sessions, HR has been more involved as the need of such training for employees has become more apparent. If and when new employees are presented with a scenario requiring them to mitigate a cyber risk, the information supplied to them about how to exercise good cybersecurity hygiene in their everyday tasks, can have a significant impact on their confidence.
Another thing that needs to be taken care of is the attitude towards non-compliance to advanced HR data security norms. Non-compliant behaviour must have consequences in a strong cybersecurity culture. HR and IT must work together to explain the consequences of failing to follow best practices and safety protocols or failing to complete training programs, both of which can be penalized for during performance reviews.
The principles of employee separation should be in place as soon as the individual starts working for the organization, to avoid any misconceptions. In fact, maintaining effective communication and a positive business culture can help prevent breaches from occurring in the first place. At the end of the day, everyone cannot be relied upon, thus limiting access to different levels of data for different people might be worth the effort.
HR is virtually forced to intervene now that GDPR is in effect and some of the new age HR software are GDPR compliant. Part of GDPR is ensuring that everyone is aware of how their data is being used. HR guarantees that data is only used for the purposes that the original user intended and consented to. While the procedure is time consuming, it will save you a lot of legal complications and issues of data theft in future.
The IT department is usually seen as the department that is largely responsible for advanced HR data security, but the HR department has no less role to play. The HR department is great with managing people, which puts them at a better place when it comes to making an impact on the organization culture.