5 Tips for Effective Travel Management in the Post Covid Workplace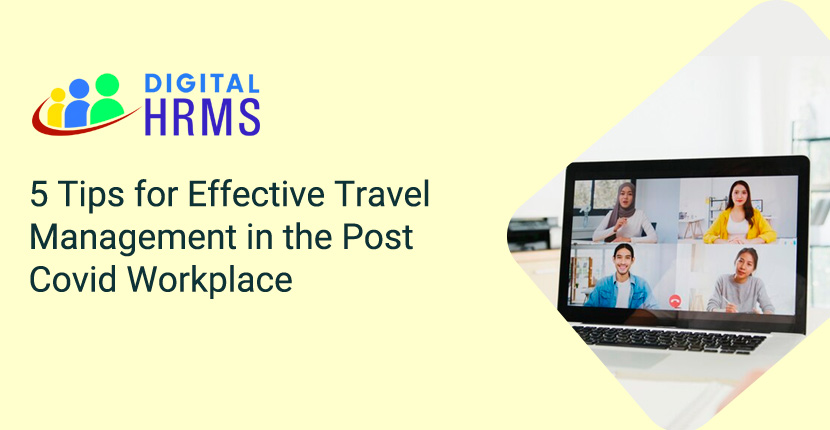 Author:

admin

Added:

18 Feb 2022
785
Corporate Travel was forced to take a backseat during the time sof strict regulations to control the spread of the Covid-19 pandemic across the globe. As we are slowly inching towards what si hopefully the end of the pandemic scare and preparing ourselves for the post-Covid workplace, we can expect to witness business travel becoming relevant again.
Did you know a single cancelled trip costs a company $889 on average, mostly because refunds and vouchers are never claimed or used for future travel?
This is data from the pre-Covid era and it showcases the cost of poorly managed approach towards business travel. Let's face it – we can hardly avoid business travel as one-to-one discussions and meetings are always more effective than connecting through a virtual platform. The new age enterprises and MNCs, with hundreds of employees travelling to destinations across the globe, can find it a challenge to maintain the details effectively. This can cost the company in dollars and also result in low employee morale, caused due to late reimbursements and approvals.
Tips for Effective Travel Management
Most enterprises today have invested in a travel management software that helps them to automate the entire process of travel management. The travel management tool also integrates seamlessly with the Expense management system to ensure prompt approvals for advance requests as well as timely processing of reimbursements.
Digital HRMS is an example of an advanced travel management software that helps your HR team streamline every aspect of the Travel management process on a single platform. The Digital HRMS travel management software allows the employees to raise a travel request which is then sent to the Manager for approval. At every step of the processing of the Travel Request, the travel management software generates automated emails to all the stakeholders involved, informing them about the status of the request.
However, a travel management software is just one of the requirements of effective travel management, Here are the 5 best practices in the infographics below that your enterprise can follow when it comes to effective management of corporate travel.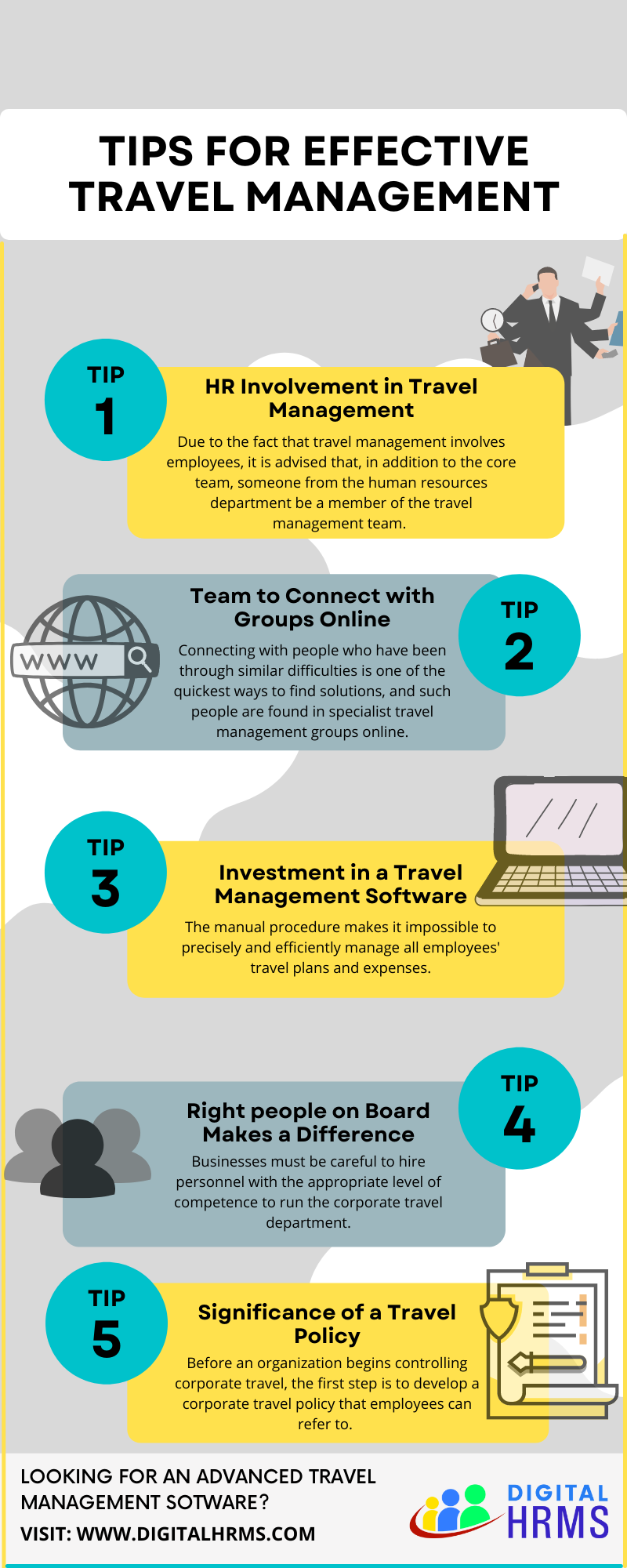 Tip 1: HR Involvement in Travel Management
Due to the fact that travel management involves employees, it is advised that, in addition to the core team, someone from the human resources department be a member of the travel management team. It would also be a good idea to include members of the accounts and finance teams, since they would be able to provide advice on the financial side of travel management.
To put it another way, businesses should ensure that its travel management team is fully prepared to address any challenges or emergencies that may arise while employees are travelling within the country or abroad.
Tip 2: Team to Connect with Groups Online
This is especially true for travel management teams that have recently begun working for small businesses or start-ups. They should be aware that when it comes to handling employee travel for businesses, a variety of problems may arise. Connecting with people who have been through similar difficulties is one of the quickest ways to find solutions, and such people may be located in specialist travel management groups online and on social media platforms.
Tip 3: Investment in a Travel Management Software
This is significant because today's businesses have several departments, each with thousands of people. The manual procedure makes it impossible to precisely and efficiently manage all employees' travel plans and spending. As a result, today's businesses want a travel management tool that automates the entire process while saving time and effort. Digital HRMS is an example of an automated travel management tool that streamlines and automates travel management for the organisation while saving time, effort, and money.
Tip 4: Right people on Board Makes a Difference
It's vital to note that travel management is not the same as other administrative responsibilities handled by an organization's administrative department. Travel management entails looking after everything from the company's budget to the employees' comfort and convenience. As a result, businesses must be careful to hire personnel with the appropriate level of competence to run the corporate travel department.
Tip 5: Significance of a Travel Policy
When it comes to travel management and employee travel rules, every company has its own viewpoint. So, before an organisation begins controlling corporate travel, the first step is to develop a corporate travel policy that employees can refer to. This will make it easier to resolve any difficulties that may arise, as well as give personnel with a reference point. The travel policy should be developed with the company's long and short term objectives in mind.
Want to explore more about how the Digital HRMS travel management software can help your HR team streamline employee travel management?
Visit our website www.digitalhrms.com or drop us an email on marketing@digitalhrms.com and our team will get in touch with you. Now, get Full access to the Digital HRMS HR software platform Free for 90 Days. Available for Limited Period only!
Stay connected with us on Social Media for all the latest updates.
Read more: Discover a Seamless Way to Manage Expense & Reimbursements