Recruitment with Digital HRMS: Hiring and Retaining New Employees with an Advanced HR Software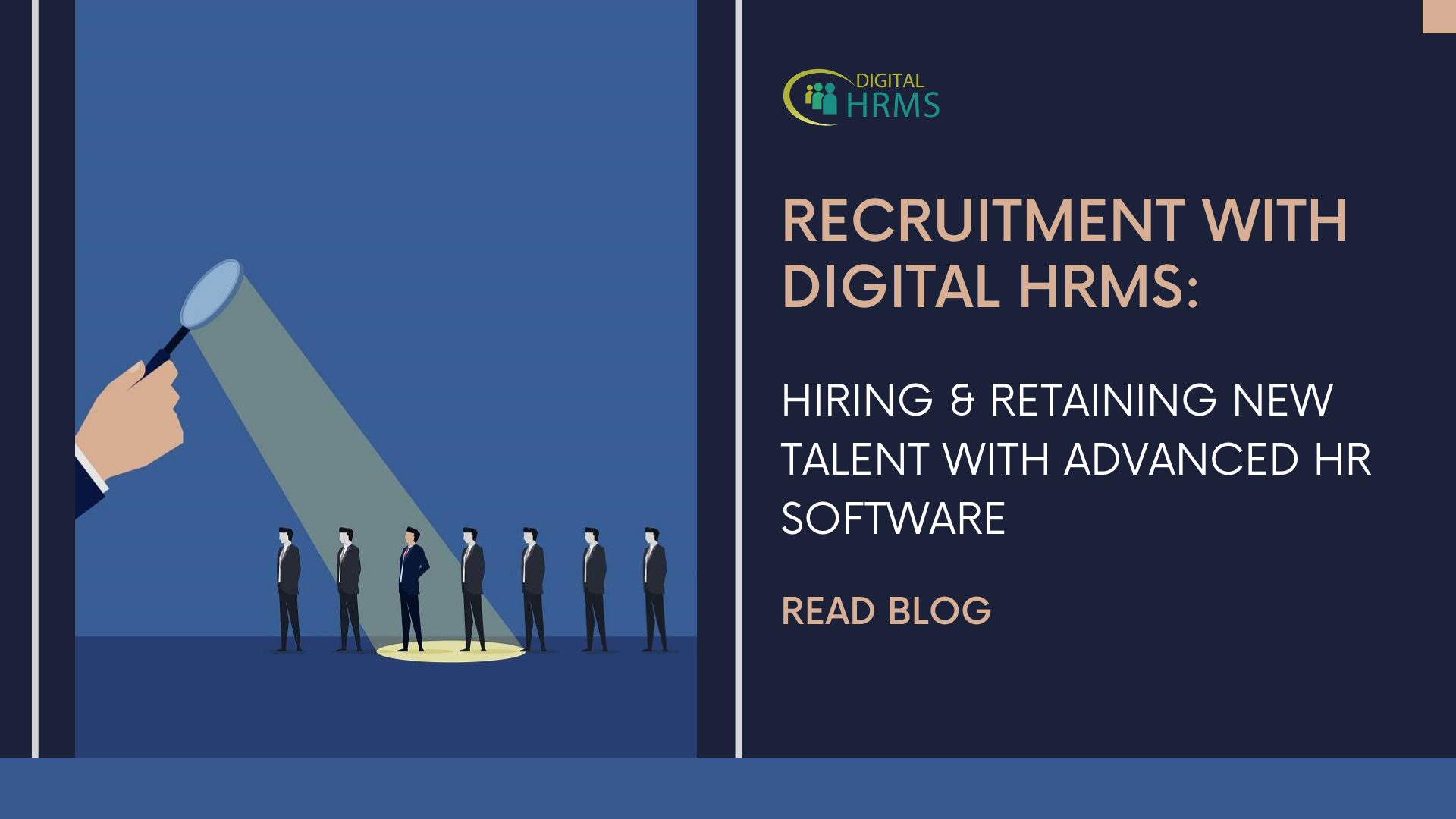 Author:

admin

Added:

18 Aug 2020
689
Today, with so much competition in the quest for the right talent, hiring can be a challenge for enterprises. One of the biggest reasons behind this is the ever-changing dynamics of the job market, paired with the fact that the candidates who are really talented are few and far between. In order to gain an edge in the competition to find the right talent, enterprises need a strategy to overcome the common recruitment challenges.
Sorting through resumes quickly to shortlist the most talented applications.

Making the email to the candidates stand out from the competition.




Hiring good candidates in the shortest time.




Using data to one's advantage for recruitment.




Seamless and streamlined interview process to create a good experience for the candidate.




Effective communication with the candidates during the recruitment process.



However, it seems recruitment is only the first step and whether the candidate will continue working for the company a few years down the line depends on the kind of experience the candidate has in the company. This begins with the very first day of joining and continues thereafter.
If we look at the statistics available, we see that recruitment is not the only challenge that Enterprises face today but it's also about employee retention.
87% of employers say that improving employee retention is a critical priority for their organisation. (Source: Kronos)
Well, also consider this:
25% of all new employees leave within the first year itself. (Source: Allied Workforce Mobility Survey)
So, employee retention is also an aspect that requires attention. Now the question is how can enterprises today overcome the dual challenges of recruitment and retention.
Overcoming the Challenges of Recruitment and Retention with New Age HR Software
A new age advanced HR software is designed to simplify HR operations and employee management in more ways than one. Digital HRMS is an example.
Digital HRMS is an integrated HR software that offers several modules for the seamless automation of every HR function. To begin with, it offers a dedicated recruitment module with multiple features to help HR teams overcome the common challenges.
Creation, approval and allocation of RRS

Provision for existing employees to refer candidates




Editing, adding & deleting job postings in a few clicks




Provision for Admin to use a question builder to define questions to be asked in interviews




Easy monitoring of candidate and interview status




Provision for shortlisting of candidates by recruiters and managers




Tracking shortlisted candidates for further interview




Resumes of rejected candidates archived in a resume bank for future reference




Detailed reports for key insights and automated email notifications




Dynamic workflows.



Taking care of the recruitment process is just one aspect of Digital HRMS, and the platform offers and onboarding module as well to create that all important first impression in the minds of the new hires about the company.
After all, 69% of employees are more likely to stay with a company if they experienced great onboarding.
Let's have a look at what HRMS has to offer when it comes to employee onboarding.
With Digital HRMS, adding the details of the new employee is easier than ever and can be completed even remotely. All that the HR needs to do is create a login ID for the employee in Digital HRMS and then ask them to login and fill in the required details, like address, contact details, skills, experience, etc.

The Employee Bulk Update feature makes it easy for the HR team to add multiple employees to Digital HRMS at one go. This is especially useful when hiring multiple candidates for a similar position or hiring candidates for different positions across departments in the organization.




Through the Bulk Document Import tab, the HR can import documents of multiple employees at one go. This ensures that the HR can import important documents submitted by the different new hires just through a few clicks on the HRMS software. So, no matter how many employees are being hired remotely, Digital HRMS ensures their documents are managed well.




The background verification of every employee is an essential protocol of the onboarding process, and using Digital HRMS, the HR can keep track of the verification process for each new employee on a single platform. This can be extremely convenient and is a great step to ensure nobody is missed out from the verification process.



In addition to this, Digital HRMS also helps the HR team take steps in the right direction to boost employee engagement, which is another factor in improving employee retention.
Want to explore how Digital HRMS can help your business enhance employee management and boost employee engagement levels?
Visit our website
www.digitalhrms.com
or drop us an email on
marketing@digitalhrms.com
and our team will get in touch with you.